[an error occurred while processing this directive]
Simona Mãlãroiu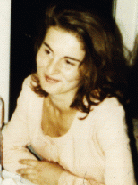 ---
Address: Servin Maijan tie 3A 6/3.
Phone : +358 40 7404992
E-mail : Simona.Malaroiu@hut.fi

---
Researcher at
Helsinki University of Technology,
Laboratory of Information and Computer Science .
Independent Component Analysis research group.
Postgraduate studies - major: Information science
- minor: Strategy and international business

Studies:
MSc. from Politehnica University of Bucharest, Department of Engineering Sciences, Electrical Engineering and Computer Science.
I graduated this year the Academy of Economic Studies Bucharest , Corporate Management faculty.
---
Some things.
---
Some links.
---
International Workshop on Independent Component Analysis and Blind Signal Separation

19-22 June 2000. Helsinki, Finland.
---
---
[an error occurred while processing this directive]